Contrary to what this site may lead you to believe, I'm not a big dessert person. Extravagant desserts are for extravagant occasions, those celebrations that lend themselves to that final flourish of decadence. Although Big Country says I would celebrate Potato Day, if there was such a thing, and he may have a point.
A small(ish) daily dose of dark chocolate satisfies my sweet tooth pretty well. Well, that and the occasional Coca Cola, served in a glass with ice and a squeeze of lime.
That said, I do love a homemade Boston Cream Pie, the official state dessert of Massachusetts. I don't know what it is about the combination of simple white cake, rich vanilla custard and ganache but it works for me. It's not cloyingly sweet so it plates beautifully for breakfast alongside a good cup of coffee.
Although I have simplified it a bit, I've been making my Boston Cream Pie based on a recipe I found on Food Network quite a few years ago. I usually only make it on my birthday, because…why not? Who else is going to make me a cake, let alone a Boston Cream Pie? This year, I did not make my birthday cake for some reason that I can't seem to remember and I really missed it. So I made it for Mother's Day instead because again…why not?
It's definitely not a one-bowl kind of recipe but rather a 3-parter and the custard does require constant attention lest it start to burn on the bottom, which I've done. (Note to self: you cannot save custard that has been burned so you will have to throw it out and start all over if that happens.) Also, you need to start it a day ahead so there's that.
Some recipes are worth the effort and when you pull this Boston Cream Pie out of the fridge the next morning and sink your fork into it, you will be so glad you went to the trouble! I promise.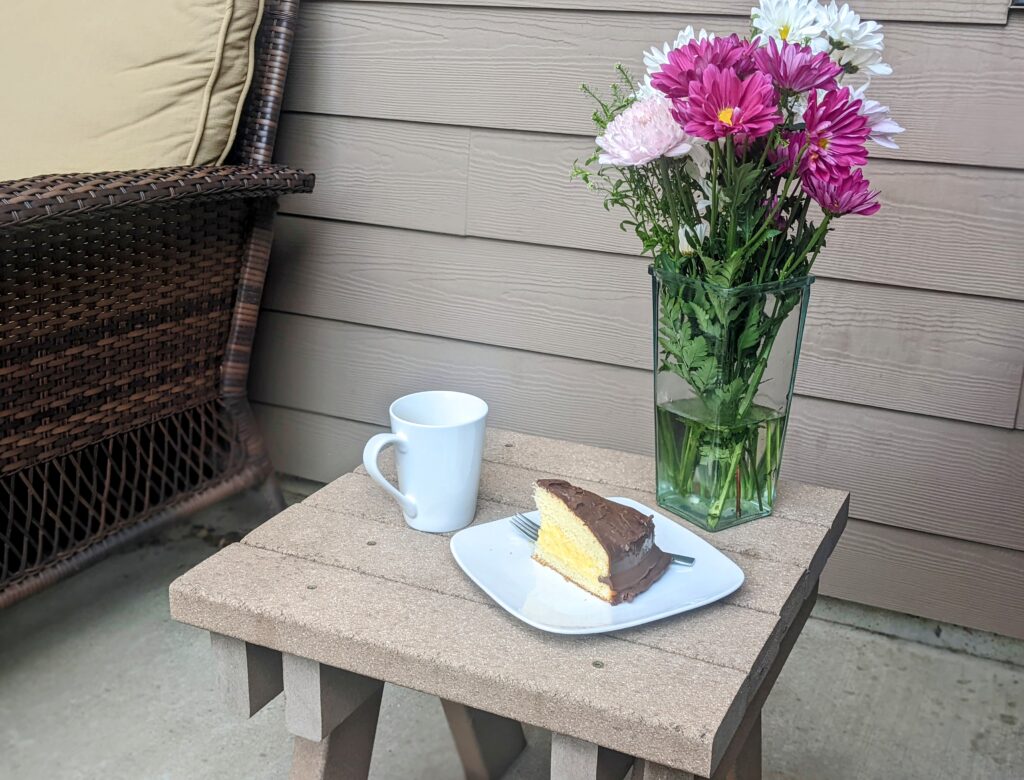 Happy Mother's Day from me to you! Please have your cake and eat it too!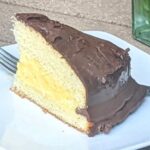 Print Recipe
Boston Cream Pie
Delightful layering of cake, vanilla custard and ganache!
Ingredients
Cake
1

cup + 2 T

cake flour

2/3

cup

granulated sugar

1 1/2

tsp

baking powder

1/4

tsp

salt

1/2

cup

whole milk

1/4

cup

vegetable oil

2

egg yolks

1

tsp

vanilla

2

egg whites

1/4

tsp

cream of tartar
Custard
2

cups

whole milk

1

tsp

pure vanilla extract

6

egg yolks

2/3

cup

granulated sugar

1/4

cup

corn starch

1

T

butter
Ganache
8

oz

semisweet chocolate

chips or chopped

1

cup

heavy cream

boiling
Instructions
Cake
Preheat oven to 350 degrees. In a large mixing bowl, combine flour, sugar, baking powder and salt. Make a well in the center of the dry mixture.

Add milk, oil, egg yolks and vanilla to the center of the mixture.

Beat with an electric mixer on low to medium speed until combined and then for a 2-3 more minutes on high.

In a medium bowl, beat egg white and cream of tartar on high speed until soft peaks form.

Fold whipped egg white gently into cake batter with a spatula until blended.

Pour batter into greased 9-inch cake or pie pan.

Bake for 25-30 minutes or until top springs back when lightly touched. Set aside to cool.
Custard
In a bowl, whisk egg yolks and granulated sugar for several minutes, until light and fluffy. Add cornstarch and vigorously whisk until no lumps remain.

Heat milk and vanilla in a medium saucepan on medium heat until it just begins to boil. Remove from heat.

Whisk 1/4 cup of hot milk mixture into egg yolk mixture and then add egg yolk mixture back into saucepan with remaining hot milk mixture.

Turn heat to medium and cook custard until thickened and slowly boiling, whisking constantly. Remove from heat and stir in butter.

Let cool slightly and then cover with plastic wrap, lightly pressing the plastic against the surface to prevent a skin from forming. Chill for at least 2 hours.
Ganache
In a medium bowl, pour boiling cream over chopped chocolate and stir until melted completely. Will start to thicken.
To Assemble Pie
Remove the cake from pan and cut in half horizontally.

Place bottom layer of cake on serving plate and spread with custard.

Place top layer of cake on custard.

Pour chocolate ganache over and down the sides of the cake.