I know. I know. Peanuts have become a bit of a public enemy in the past decade; however, if you are the part of the 99% of the world whose throat does not start closing up at the mere sight of the picture above, then stay with me.
Nothing quite says America like a classic peanut butter cookie. Okay, maybe a chocolate chip cookie. Or maybe the marriage of a peanut butter cookie with a Hershey's KIss in the center. Remember those? The best!
When I lived in Germany a few decades back, I can still remember the day my neighbor expressed her consternation with the American fascination with peanut butter, Nutella being her preferred choice of sandwich spread. It was basically a "I just don't get what you see in him" sort of tone that she used with me. Much to my surprise, I quickly learned that peanut butter was not widely available, nor appreciated, in Europe. What??!!
As an American, I did not know a world without peanut butter. Growing up, I loved peanut butter although my mother's preference of unsweetened, all-natural peanut butter that had to be stirred diligently to incorporate the oil at the top of the jar would not have been my choice. Ewww! In fact, as an adult, I still won't purchase peanut butter that has to be stirred. Pre-stirred creamy peanut butter for me, with a bit of sugar. Preferably on top of homemade sourdough toast. Please and thank you.
This classic peanut butter cookie recipe is perfect in its one-bowl simplicity, with just the right crunch on the outside and softness on the inside. I discovered this in a Betty Crocker Cookbook I was given at my wedding and have been making it exactly the same ever since. These cookies were so often requested by my middle child and his friends that I recently found myself on a flight to the wedding of my son's childhood best friend with a freshly baked batch in my lap. You should have seen his eyes light up when I handed the groom-to-be his container of cookies as he arrived at the hotel. His friends were all watching the interchange and I swear their faces fell just a little when he took those cookies straight to his room. He wasn't sharing and I couldn't blame him.
If there is a food that gets lost in the translation of mass production (and there are actually many), it's cookies. I rarely eat a store-bought cookie because you just can't get that fresh out of the oven, soft on the inside, crispy on the outside goodness from a cookie that has been laced with preservatives so it can stay shelf-stable for months to come. There is something magical about homemade cookies. So give yourself and your friends and your family the gift of these classic peanut butter cookies.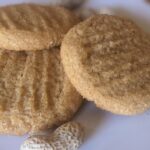 Print Recipe
Classic Peanut Butter Cookies
It doesn't get any more Americana than this!
Ingredients
1

cup

butter

at room temperature

1

cup

creamy peanut butter

2 1/2

cups

flour, unbleached

3/4

cup

sugar

1/2

cup

honey

2

eggs

at room temperature

1

tsp

baking soda

1

tsp

baking powder

1

tsp

vanilla

Sugar

for rolling cookies in
Instructions
Beat butter and peanut butter in mixing bowl on medium speed with an exlectric mixer, until well mixed.

Add 1 cup of the flour, sugar, honey, eggs, baking soda, baking powder and vanilla and beat till thoroughly combined.

Cover and chill for at least an hour or overnight.

Scoop dough in heaping tablespoons and form into balls, then roll balls in additional sugar.

Place 2 inches apart on ungreased cookie sheet lined with parchment paper.

Flatten by crisscrossing with the tines of a fork.

Bake in a 375° oven for 10-11 minutes or till bottoms are lightly browned.