Salads are kinda my thing. I love thinking up creative versions that include veggies, a touch of fruit, a flavorful protein, nuts, something crunchy and tossed with some sort of vinaigrette dressing. I try to keep them light and nutritious. And when the colder months come around, I crave combos that are a little heavier and warmer than I would typically make the rest of the year. I am known for salad suppers where I provide the lettuce, protein, dressings and bread and everyone brings their favorite two salad toppings to share. I even ordered fabulous deep salad bowls just for such occasions. So yeah, you could say salads are my jam. It's always lovely to see my friends and family try new toppings and the conversation is always lively around the table. Salad suppers seem to bring out the best in people.
After the excesses of the holidays, I was feeling compelled to lock down some healthier options that still satisfy during this spell of cold weather. So I sat down to thumb through the October 2020 edition of Eating Well magazine and they were doing a "Best Of the Last 30 years" retrospective. I came across a section on salads and there was an interesting recipe from 2005, shared by Victoria Abbott Riccardi, for a warm salad that seemed well suited to winter ingredients. This salad brings together crispy pan-fried chicken cutlet strips, arugula, olives, dates, oranges, pistachios, croutons and is topped off by goat cheese crumbles. You had me at chicken cutlet, to be fair! The apple cider and dijon vinaigrette is quite similar to the dressing on the Warm Roasted Potato and Asparagus Salad that I posted earlier this year. That was another nice salad for colder days!
I riffed a little on the recipe but stayed pretty close to the bones of the original and came up with a serious winner. Big Country helped by breading and pan frying the cutlets and he kept saying "this is really good, I mean really good". I think he was a little surprised but I had a feeling it was going to work out well.
Give this Warm Salad with Chicken Cutlets and Goat Cheese a try and let me know if it surprises you with its goodness. Happy eating!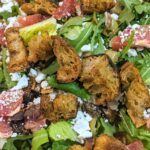 Print Recipe
Warm Salad with Chicken Cutlets and Goat Cheese
Ingredients
8

cups

baby arugula

10

green olives, pitted and halved

6

dates, pitted and quartered

2

whole

oranges, peeled and cut into segments

1

lb

boneless, skinless chicken breasts or thighs

1/3

cup

cornstarch

2

whole

eggs

1

splash

tabasco hot sauce or sriracha sauce

1

cup

panko bread crumbs, plain

1

cup

all-purpose flour

1

tsp

cajun seasoning or your favorite chicken seasoning

1/3

cup

olive oil

1/4

cup

frozen orange juice concentrate, thawed

3

tbsp

water

2

tbsp

apple cider vinegar

2

tbsp

dijon mustard

salt and pepper to taste

1

cup

croutons

1/3

cup

shelled pistachios

3-4

oz

goat cheese, crumbled
Instructions
For chicken cutlets
Place chicken pieces between two pieces of plastic wrap and pound gently with meat mallet or rolling pin until 1/4" thick. Cut into thick strips and sprinkle with salt and pepper.

Pour cornstarch into quart-size bag that seals.

Whisk eggs and tabasco together in a bowl.

In a second bowl, mix together panko, flour, seasoning, salt and pepper.

Heat 1/4 cup olive oil over medium-high heat in a heavy bottomed or cast-iron skillet.

Place chicken pieces into cornstarch bag, seal and shake until coated. Then dredge them through the egg mixture and then the flour mixture.

Add half of the chicken into skillet; cook, turning once until golden and just cooked through, about 2-3 minutes on each side. Transfer to a platter, cover and keep warm. Reduce heat to medium and repeat with remaining oil and chicken.
For dressing
After removing final batch of chicken from skillet, leave the chicken drippings and add orange juice concentrate, water and vinegar to pan. Stir in mustard and let dressing boil for 30 seconds. Season with salt and pepper.
To assemble salad
Spread the arugula onto a large platter and arrange green olives, orange segments and dates on top.

Sprinkle goat cheese, croutons and pistachios onto salad

Border salad with chicken cutlets or lay across the top.

Serve with dressing on the side.