I am actually not big on desserts but I am a huge fan of celebrations and nothing says celebration more than a decadent labor-of-love dessert so I happen to have a few solid signature cake recipes in my back pocket. Big Country's all-time favorite is carrot cake. He is always on the lookout for a new carrot cake to try. Truth be told, pretty much any carrot cake will do but this recipe is at the very top of his list so when he had a birthday recently in the midst of COVID, I knew just what to do.
Years ago, I came across a recipe on Allrecipes called Sam's Famous Carrot Cake and I have been making it ever since, adapting it as I go. I made a double batch of this cake and sent out texts to family and friends, inviting them to a drive-through birthday celebration, featuring carrot cake and coffee to go. I also delivered extras to the neighbors and then wrapped up the leftovers into individual packets and popped them in the freezer so he could enjoy his birthday for a few more weeks, one piece at a time.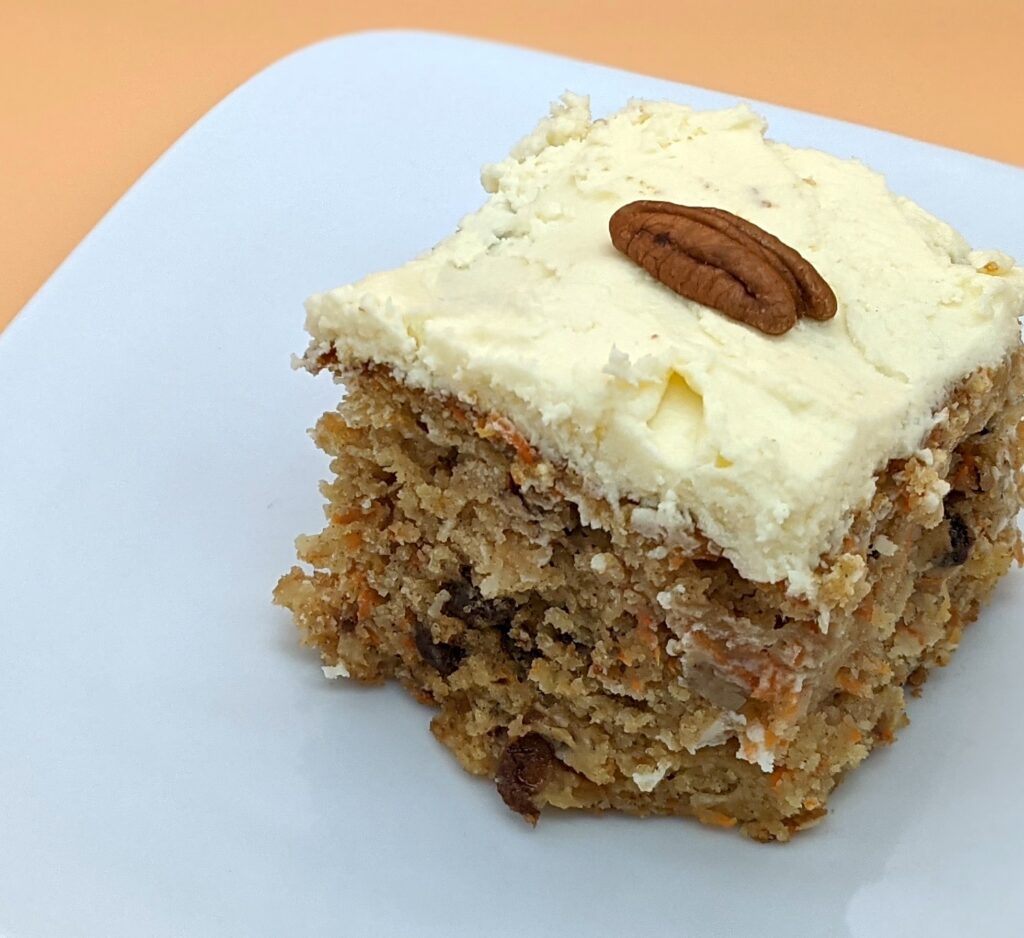 The thing about this particular recipe is that it is more like a fruit cake– dense with carrots, pineapple, applesauce, raisins, coconut and pecans. Actually, it might be considered a meal substitute for some of you! I mean, it's got fruit, nuts, whole grains and dairy. That's a complete meal, right?
If you prefer your carrot cake light and fluffy, keep looking; however, if you'd rather serve a cake that has a complexity and substantiveness, this might be the version for you. With all of this fruit in a cake, you can lower the processed sugar. I mix in whole wheat, oat flour and flax seed to make it even more robust. And then top it with cream cheese frosting made with a dollop of real maple syrup. Trust me when I tell you that this carrot cake will create lasting memories and isn't that what celebrations are for?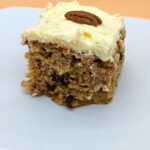 Print Recipe
Carrot Cake
Chock full of nuts, fruits and carrots
Ingredients
For Cake
3

eggs, room temperature

3/4

cup

buttermilk

1/2

cup

applesauce, unsweetened

1/4

cup

vegetable oil

1

cup

sugar

2

tsp

vanilla extract

1

cup

all-purpose flour

1/2

cup

white whole wheat flour

1/2

cup

oat flour (or ground oats)

3

Tbsp

ground flaxseed

2

tsp

baking soda

1/4

tsp

salt

2

tsp

ground cinnamon

2

cups

shredded carrots

1

cup

unsweetened coconut, flaked or shredded

1

cup

raisins

1

cup

canned crushed pineapple with juice

1

cup

toasted pecans, chopped
For Frosting
8 oz

cream cheese, softened

1/2

cup

unsalted butter, softened

1/4

cup

maple syrup

1/2-1

cup

powdered sugar
Instructions
For Cake
Preheat oven to 350 degrees F and grease an 8 x 12 pan.

In a medium bowl, sift together all flours, flaxseed, baking soda, salt and cinnamon. Set aside.

In a large bowl, combine eggs, buttermilk, applesauce, oil, sugar and vanilla. Mix well and then completely incorporate in flour mixture.

In a medium bowl, combine shredded carrots, coconut, raisins, pineapple and toasted pecans

Using a large mixing spoon, add carrot mixture to batter and fold in well.

Pour into prepared 8 x 12 inch pan and bake at 350 degrees about 1 hour. Check center with toothpick to ensure doneness.

Allow to cool before spreading with cream cheese frosting.
For Frosting
Add all ingredients to mixing bowl and mix on high speed until fluffy. After starting with 1/2 cup powdered sugar, add more to taste, if needed. Spread on cooled cake. Refrigerate until ready to serve.