Living in an area of the country where there is a lot of farming, I support the local food scene, if not in producing, then at least through my purchasing power. I love that there are people out there who are committed to growing food and raising animals in a sustainable way. It is evident they are certainly not in it for the money nor ease of life. For years, I drove off the blacktop to a farm where I would make my way slowly down the long dirt and gravel driveway to avoid the clearly free-range chickens that were running amuk. I would pull up to a dilapidated shed (as sheds should be) and go inside to make my selection of meats from a couple of old freezers and retrieve my raw milk and fresh eggs from an even older refrigerator. There was a money jar where you could leave your check or cash. Yep. That's right. The honor system still holds true in a few places around here. This family had a succession of adorable and very knowledgeable kids who would come out to help or just chat and we fell in love with all of them. If the roads got too muddy, they would even deliver to our front door. As demand grew, the family started selling their products at the local farmer's markets and local co-op and a couple of years back, closed up their farm "store". Although I still purchase their products at the local outlets, I miss making the trek out there. There is something spiritual about taking the time to get up close and personal with your food source, something precious about seeing for yourself your role in an ecosystem where there is no middleman; just you and the producer.
All of this to say that I don't mind spending a little extra on good quality, locally sourced food; however, with cost in mind, I am a bit more mindful about not wasting it. Which brings me around to the roasted chicken we are going to talk about in this post. Since I pay more than double the grocery chain prices for a locally sourced whole chicken, I justify it by getting several meals of the roasted chicken meat and then bone broth for another several meals. You will want to do this on a leisurely weekend when you have time to putter about and feel noble about the whole thing.
Roasted Chicken
Here's what you need to gather:
Roaster pan or any pan with deeper sides will do
A thawed chicken, usually around 4-5 pounds but more or less is fine
Fresh Lemon, quartered
Peeled onion, quartered
Head of garlic cut in half at the equator
Salt
Pepper
Olive Oil
Some mixture of fresh herbs such as rosemary, savory, thyme, sage, marjoram
Kitchen Twine
Instructions
Preheat your oven to 400 Degrees F
Pull out gizzards, neck or whatever else is in the cavity and set aside for another use
Twist and tuck wings beneath the body
Tie together legs
Use kitchen twine to secure wings and legs to chicken (this is called trussing)
Place whole chicken in roasting pan
Rub outside of chicken with olive oil
Salt and Pepper inside and outside of chicken. Liberally.
Stuff lemon quarters, onion quarters, garlic and half of the herbs inside the chicken cavity
Sprinkle remaining herbs onto chicken, tucking in larger pieces into string
Cook at 400 degrees for approximately 15 minutes per pound but check doneness by inserting a meat thermometer into the thickest part of the thigh to ensure it is at least 165 degrees F before calling it done.
If your chicken is larger than 5 pounds, cover it for the first 30 minutes of roasting with lid or foil and then remove for remainder of baking time so the skin gets nice and crispy, but not burnt.
Once your chicken is done, remove it from the oven and let it cool for about an hour.
But first, pull off the crispy skin on top and eat it while it's still piping hot. Or not. Whatever works for you. Personally, it's pretty much my primary motivation for roasting a chicken.
After it has mostly cooled, debone the chicken. Do this sitting down because it can take a while. Sort out the deboned chicken meat into whatever size portions you think you will need and freeze it either in freezer bags or Foodsaver bags, if you want to get fancy, which I do.
After you have finished deboning the chicken, throw your bones and skins and other chicken parts into a big ol' stockpot to make bone broth. As big of a stockpot as you have. Or freeze for another day if you run out of time.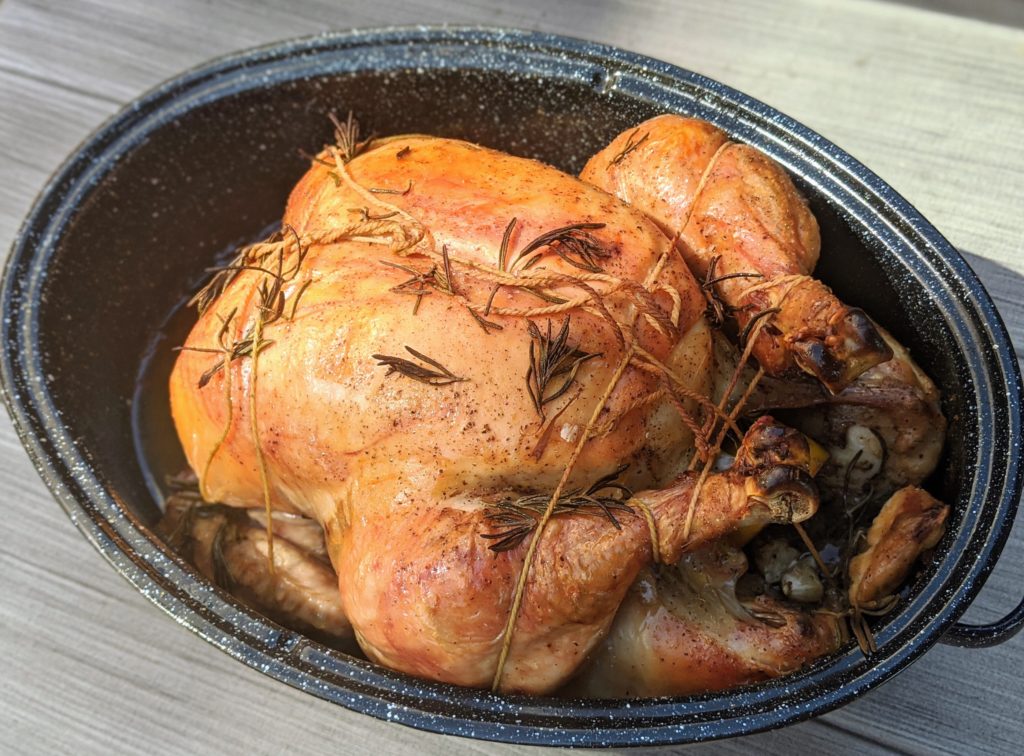 Now you have flavorful roasted chicken that you can feel good about when you throw it into chicken enchiladas, chicken potpie, soups, chicken salad or whatever else you are cooking.
I can't emphasize enough how much difference there is in chicken so take the time to find a good source. Just the other day, I found a solitary package of chicken wings in my freezer from a local farm. I thawed them out and marinated them for a couple of hours in this easy pantry marinade. Big Country cooked them up on the grill and we thought we had died and gone to heaven. They were that tender and meaty and flavorful! Not even one leftover wing.
Anyway, I digress. Here is the point. Don't be intimidated by roasting a chicken. And go ahead and splurge a little and get a healthy one, knowing that its meat and bone broth will nourish your family for many meals ahead.
Click on this recipe for those amazing chicken wings: Lampe's Chicken Wings with Sweet and Spicy Pantry Sauce.