As much as I love complex flavors and dishes, there is something about the simpler foods that just feeds my soul. I fell in love with shortbread the first time I tasted Walker's Pure Butter Shortbread decades ago. Since then, I have tasted a lot of different kinds of shortbread but for some reason, only recently have I started making my own. A basic shortbread consists of flour, sugar, butter and a bit of salt. That's it! Yet it can be so elegant. Once you make your own, you may find that Walker's just doesn't do it for you anymore.
Last year, I had the most amazing crop of rosemary and was perusing the web for ideas when I came across a recipe for Rosemary Shortbread by Melissa Clark, posted on NYT Cooking. The first time, I made it as written and it was really good but the next time I squeezed in the juice and zest from a lemon and elevated it to another level.
I had to give my rosemary plant away when we moved to the townhouse but luckily my friend Angie, who adopted my plant, has kept it alive and well. And she brings me rosemary whenever I need it so I can still make this incredible Rosemary Lemon Shortbread.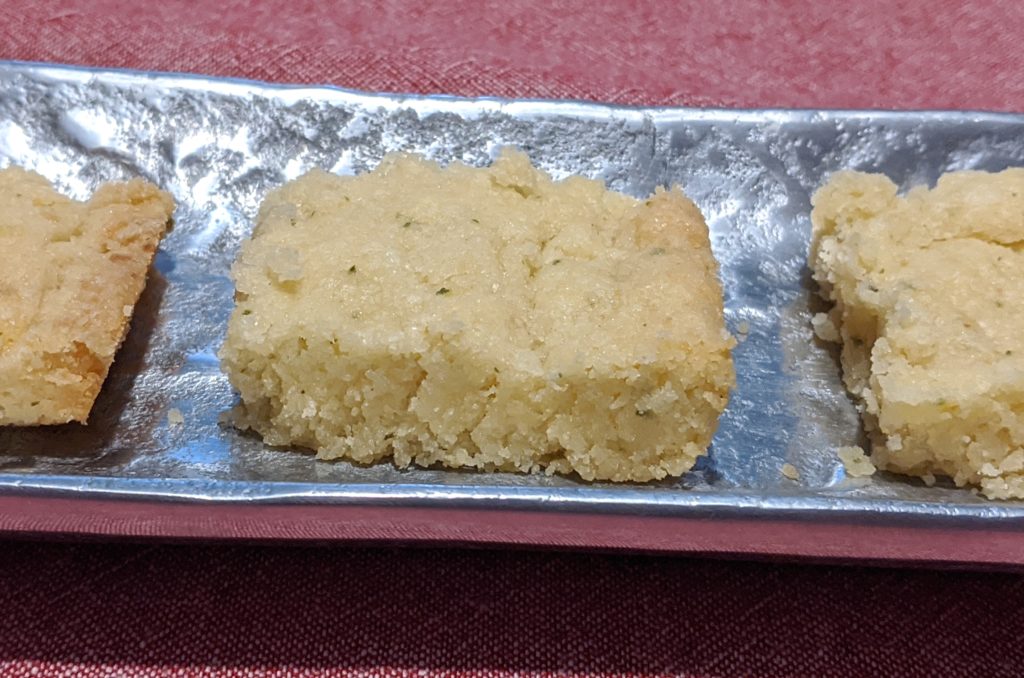 Last night, I decided to make a batch of shortbread to take to a girls' night and didn't have any rosemary lying about. But you know what I did have lying around? An orange and some Guittard semi-sweet baking wafers that arrived at my house with the dreaded white coating that tells you they were left too long in a hot warehouse or on a hot truck somewhere. Ughhh! They aren't much to eat out of the bag but they work great chopped and dropped into this shortbread recipe, along with freshly squeezed orange juice. So today it's Orange Chocolate Chip Shortbread. I've sampled three pieces and I'm calling it a winner!
Here's the thing about this recipe. It is simple and flexible. You don't have to have anything at room temperature, your food processor does all the work in a few minutes, you don't have to grease a pan and you can customize with your own whimsical (read: whatever is in the pantry) add-ins. Trust me and use the kosher salt called for in the recipe, despite your initial misgivings. Those microbursts of salt in your mouth play so well with the butter and sugar and crunchy edges. Seriously. You need this shortbread. Yum!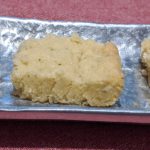 Print Recipe
Rosemary Lemon Shortbread
Ingredients
2

cups

all-purpose flour

2/3

cup

granulated sugar

1

Tbsp

fresh rosemary

finely chopped

1

lemon, zested first then juiced

1

tsp

kosher salt

1

cup

unsalted butter, cold

cut into 1 inch chunks
Instructions
in a food processor, pulse together flour, sugar, rosemary, salt and lemon zest

Add butter and juice of lemon and pulse to fine crumbs. Pulse a few more times until some crumbs start to come together but don't over process. Dough should not be smooth.

Press dough into an ungreased 8 or 9-inch square baking pan or pie pan. Prick dough all over with fork.

Bake for 35-40 minutes for 9-inch pan and 45-50 minutes for 8-inch pan. until golden brown.

Cool in pan. Cut into squares, bars or wedges to serve.