Like pretty much everyone I know, I struggle to come up with fresh ideas for dinner that are made from real food and on the healthy side. Fun fact. The moment every home cook waits for actually happened to me last week. My college-age daughter, who was still under "stay home" mandates where she lives, called apologizing for complaining about my insufficient culinary offerings during her high school years and on college break visits. Trust me when I say she was quite vocal. Pretty much every day. Now that she doesn't hold a meal plan with the school cafeteria and all the restaurants have been closed in her city for a few months, with only limited plans to reopen anytime soon, she has had to resort to cooking for herself. Horrors! The first 4-5 weeks were kind of a lark as she discovered that she had a bit of a knack in the kitchen after all. After all, she can read and follow directions, right? And then Week 6 hit and she lost all inspiration. She called me whining and asked me how I keep coming up with meal ideas all the time because she is tired of thinking about what to cook and has eaten corn dogs for the past three days and is losing all motivation to even eat.
While I was talking to her, Big Country was frying up some diced red potatoes with onions and smoked paprika as the base for a skillet breakfast-for-dinner hash and I was stirring up a sourdough pancake batter. (I use this recipe from Cultures for Health.) I agree that coming up with new menu ideas might be the hardest part of cooking because once I know what I'm cooking and have the ingredients in front of me, it gets so much easier from there.
This discussion with my daughter reminded me that I really do make a lot of one skillet hash meals because they don't take as much thought on the front end and they are satisfying and can be healthy. Much like soups, I start with what veggies I have on hand and build from there. So, I am going to share a few of my recent favorite one skillet hash recipes, starting with this deliciousness that we came up with last week. While potatoes, onions and some form of protein generally form the base of a skillet hash, you can make additions beyond that, depending on what you have in your pantry and fridge. I happened to have mixed greens, eggs, bacon, a jar of roasted red peppers and havarti cheese for this one but feel free to use what you have on hand in creative ways.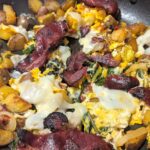 Print Recipe
Breakfast Skillet
savory blend of potatoes, bacon, wilted greens, roasted red peppers and eggs
Ingredients
2

Tbsp

olive oil

4-5

medium red potatoes, washed and diced

1/2

yellow onion, sliced

1/2

tsp

garlic powder

1/2

tsp

smoked paprika powder

salt and pepper, to taste

3

cups

washed mixed greens

bolder flavors work well

1/4

cup

roasted red pepper, chopped

4-5

eggs

6

strips

bacon, cooked and crumbled

4

slices

havarti cheese
Instructions
Heat olive oil in large saute or frying pan on medium and add in diced potatoes and onions.

Sprinkle on garlic powder, paprika powder, salt and pepper. Cook for 12-15 minutes until potatoes are nearly tender and starting to lightly brown on outside, turning them every 5 minutes.

Add in greens and red pepper. Cook for 4-5 minutes more until wilted, stirring halfway through.

Add in eggs and mix them in gently as they cook through.

Lower heat, top with cheese and keep on heat until cheese melts.

Sprinkle bacon on top and serve.

Adjust seasoning to taste.