My brother and his wife were in town for the week and he had a birthday coming up. We are never together on his birthday so I thought it would be fun to make him a proper birthday cake. Why do we stop making birthday cakes for adults as they get older? I mean, does anyone really outgrow birthday cakes? I think not! Even if I have to make my own, and I usually do, I want a birthday cake to enjoy on my special day. In my case, it's definitely Boston Cream pie. For the win. But that's for another post.
In my family, ice cream is pretty much king of desserts, for as long as I can remember. Most happy childhood memories centered on ice cream. Banana splits. Root Beer Floats. Grape Juice Floats. (Seriously. It was a real thing with my mom.) Early in the week, I casually brought up favorite ice cream flavors with my brother and found out he really loves fresh strawberries mixed in with vanilla ice cream. So I had my mission: to create a birthday cake with strawberries and vanilla ice cream. I constructed this Strawberries and (Ice) Cream Cake that was perfect for the gathering we had but you could halve everything, use a round cake pan instead of the large rectangle one that I used and still feed plenty of mouths!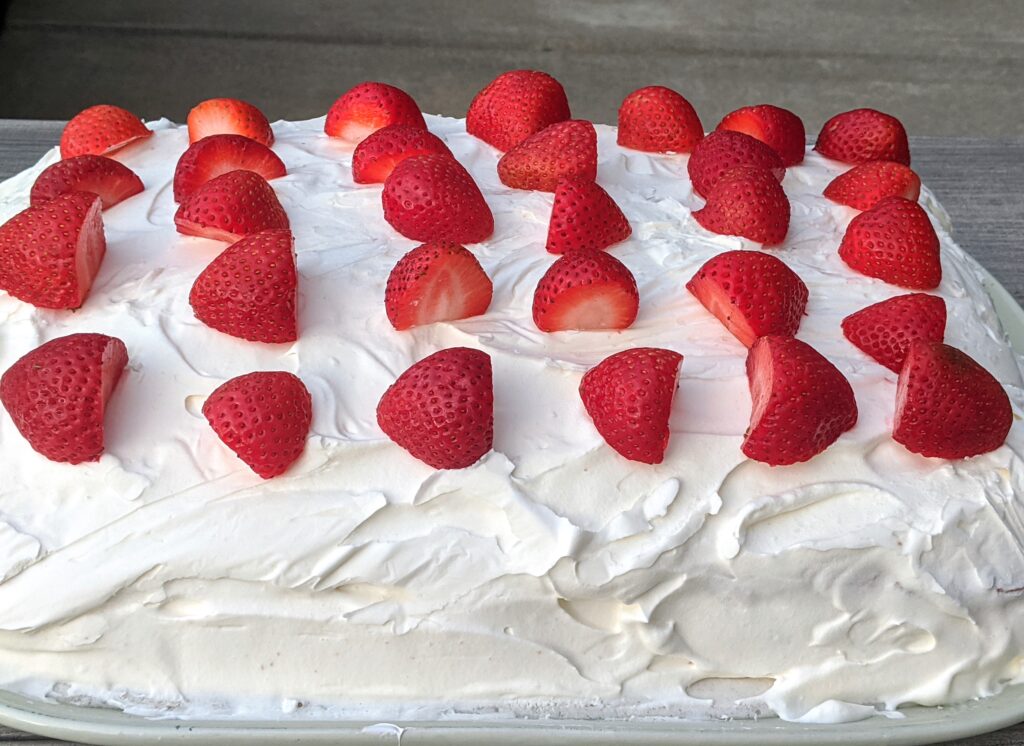 I started with a layer of sponge cake. But you could use angel food cake if you prefer. Top with thawed, sweetened frozen strawberries so the strawberry juice soaks into the cake. Then a layer of fresh strawberries mixed in with softened vanilla ice cream. Top with the other layer of the sponge cake. Frost with real whipped cream and decorate with more fresh strawberries. Yum!! Such a refreshing summer dessert. It was perfect for the 100 degree day I served it on!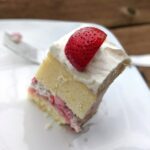 Print Recipe
Strawberries and (Ice) Cream Cake
Delightfully refreshing on a hot summer day
Ingredients
For Cake
2

qts

vanilla ice cream

2

quarts

fresh strawberries, stemmed. Slice half of them and halve the other half.

10

oz

tub of frozen strawberries, sweetened

thawed

4

cups

cake flour (or plain ol' unbleached flour)

3.5

tsp

baking powder

1

tsp

salt

8

tbsp

unsalted butter, softened

2

cups

granulated sugar

6

eggs, large (at room temperature)

2

tsp

vanilla

1

lemon

zested and juiced

2

cups

whole milk
For Whipped Cream Topping
4

cups

heavy whipping cream

1/2

cup

powdered sugar (or to taste)

2

tsp

vanilla extract
Instructions
To make cake:
Preheat oven to 350 degrees F

Grease and line one 11" x 17" cake pan with parchment paper

Stir together cake flour, baking powder and salt and set aside

Cream together butter and granulated sugar in large bowl, using paddle attachments on electric mixer, for about 3 minutes until light and fluffy.

Add in eggs, one at a time, beating after each addition.

Continue mixing as you add in vanilla extract, lemon juice and lemon zest.

Add in about 1/3 of the flour mixture and mix on low just until blended.

Pour in 1/2 of the milk and mix until smooth. Continue alternating flour and milk.

Scrape down sides and beat for one minute more until smooth.

Pour cake batter into cake pan, spreading evenly with spatula.

Place pan in center of oven and bake for approximately 45 minutes, until cake is golden and toothpick placed in center comes out clean.

Remove pan from oven and cool for 20-30 minutes

Carefully remove the cake from the pan and place on wire rack to cool completely.

When cool, slice cake in half horizontally so you have two layers. Place bottom layer on cake serving plate.

Spoon thawed sweetened strawberries and juice onto bottom layer of cake, letting juice soak in.

Set ice cream out on counter to soften. When softened, mix it together with one quart of sliced fresh strawberries and spoon it on top of the sweetened strawberries, to within an inch of edge of the cake.

Place top layer of cake onto ice cream. Freeze immediately for at least two hours or overnight.

Remove cake from freezer and frost top and sides with whipped cream. Return to freezer.

30 minutes before serving, remove frosted cake and top with halved strawberries. Enjoy!
For whipped cream
Whip cream, sugar and vanilla extract with an electric mixer, using the wire whisk attachment, until firm peaks form.