I don't know about you but I am one of those people who like most versions of bean dip. It might be a recipe based on pintos or garbanzos or black beans or another type of bean. Its origins might be Middle Eastern or Mediterranean or South American but no matter, I will probably enjoy it, either hot or cold. There is just something satisfying about beans all mashed up with seasonings and served with some sort of chip or bread.
Years ago, I was introduced to and promptly fell in love with the heirloom bean Anasazi, which is similar to a pinto but much creamier. I've ordered it from various online sources ever since, making large batches of refried beans with it, freezing the extra and then creating this amazing hot bean dip with the rest.
I've been bringing this Refried Bean Dip with me to potlucks for years and it never fails to impress with its warm, cheesy goodness. Comfort food at its best! No worries if you don't have access to Anasazi beans because pintos work just as well in this version and you can use canned pinto beans, if you are short on time or motivation. Or even doctor up some canned refried beans, if you want to skip over that part altogether and get right to putting together an amazing Refried Bean Dip!
Yum! Doesn't that look good? And that was without olives, which I usually add. However you decide to make Refried Bean Dip, just be sure to actually do it and then let me know if you enjoy it as much as we do! I bet it ends up in your bean dip rotation!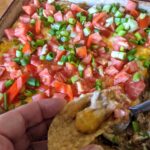 Print Recipe
Refried Bean Dip
Ingredients
For refried beans
3

cups

dried anasazi or pinto beans

1

splash

apple cider vinegar

4

strips

bacon, diced

1/3

cup

salsa

1/3

cup

whole milk

2

tsp

Taco or Mexican Seasoning Mix

1

cup

shredded cheddar cheese
For Refried Bean Dip
3-4

cups

Refried Beans (from recipe)

8

oz

cream cheese, room temp

1

clove

garlic, minced

1/2

cup

cheddar cheese, shredded

2

tsp

Taco or Mexican Seasoning

1

tomato, diced

2

green onions, chopped

1

can

sliced black olives (2 oz)

1

large bag

tortilla chips
Instructions
For refried beans
Rinse dried beans and add into large pot, covering with about 2 inches of water. Let sit overnight or longer.

Drain water and cover beans with 2 inches of water.

Bring to boil and then lower to a simmer. Continue to simmer for 60-75 minutes or until beans are soft.

When beans are nearly done, add in a splash of apple cider vinegar (to help with digestion).

Drain Beans and set aside.

In large pot, sauté diced bacon until crisp.

Add in milk, salsa and seasoning. Simmer for five minutes.

Use immersion blender or food processor to blend bean mixture until smooth. Add more milk if too thick.
For Refried Bean Dip
Heat oven to 375 degrees F

Spread refried bean mixture into 8" x 8" pan with deep sides.

Mix together cream cheese, minced garlic and seasoning and spread over top of bean mixture.

Sprinkle shredded cheese on top and place in oven.

Bake for 25-30 minutes, until simmering throughout.

Remove from oven and top with diced tomatoes, diced green onions and chopped black olives prior to serving.

Serve with your favorite tortilla chips.