Sometimes you are craving something substantial in flavor and texture but aren't necessarily feeling a heavy dinner. That's what was going through my mind yesterday when I remembered a green salad from years ago with roasted potatoes and a warm vinaigrette. This was the humble beginnings of this Warm Roasted Potato and Asparagus Salad I came up with, which has now moved onto my menu rotation. The combination of soft potatoes, slightly crunchy asparagus and wilted greens, drizzled with a tangy vinaigrette on a bed of fresh lettuce, topped with my favorite pumpkin seeds and dried cranberries. Yum!
Our farmers markets have opened and the produce is amazing this year. Our spring was mild and rainy which has apparently been a good fit for veggies, particularly various types of greens and asparagus because they are abundant and vibrant. Last week, I picked up some spinach, asparagus, leafy reds and greens and some sort of unidentified greens with yellow edible flowers. Of course then I had to think of ways to use them throughout the week.
One of the best ideas I came up with involved all these greens, plus asparagus, plus roasted potatoes, covered by a warm mustardy dressing and topped with dried cranberries and toasted pumpkin seeds. If you haven't tried roasted potatoes on a salad yet, you really need to. I think you will be pleasantly surprised. Big Country was a little hesitant when I asked him to roast potatoes for the salad (he is the roasted potato master in our house) but he quickly became a big fan. In fact, I noticed that he came back for thirds for his bedtime snack.
You can customize this Warm Roasted Potato and Asparagus Salad to your own preferences, for instance, top with crumbled, cooked bacon or thinly sliced radishes or whatever catches your fancy. I know the recipe looks long but it is really only three pretty simple steps. As long as you create the foundation of fresh greens, sautéed greens with asparagus, roasted potatoes and the dressing, you can then go to town with your own toppings. I'd love to hear how it goes.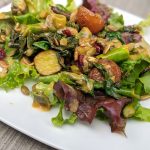 Print Recipe
Warm Roasted Potato and Asparagus Salad
A surprisingly satisfying blend of greens, potatoes and mustardy dressing
Ingredients
Roasted Potatoes
2

cups

petite red potatoes, halved

1

medium onion, peeled and sliced

2

Tbsp

olive oil

salt and pepper to taste
Sautéed Asparagus and Greens
2-3

Tbsp

olive oil

1-2

bundles

fresh asparagus

3-4

cups

chopped greens, assorted (spinach, kale, collards, etc.)

salt and ground pepper to taste
Warm Honey Mustard Vinaigrette
1

Tbsp

olive oil

1/4

cup

diced onions (green, white, yellow, or red)

1

tsp

minced garlic

1/4

cup

dijon mustard

1/4

cup

honey

1/4

cup

apple cider vinegar
In Addition
1/4

cup

roasted pumpkin seeds

1/4

cup

dried cranberries or cherries

8

cups

fresh salad greens
Instructions
For the Potatoes
Preheat oven to 400 degrees.

Toss potatoes and sliced onion in a bowl with olive oil and salt and pepper.

Spread on cookie sheet or other shallow baking dish.

Roast for about 30-40 minutes or until tender. Remove from oven.
For the Asparagus and Greens
Take the ends of each asparagus between your thumb and forefinger and bend until it breaks. Discard the woody ends.

Cut or break asparagus into 2 inch pieces

Heat olive oil on medium heat in skillet on stovetop and add in asparagus pieces. Cook for about 4-5 minutes or until the asparagus starts to soften a little.

Add chopped greens into pan and continue cooking until greens are wilted and asparagus is cooked to the firmness you prefer.

Add salt and pepper to taste.
Warm Honey Mustard Vinaigrette
Heat oil in skillet on stovetop on medium.

Add in diced onions and sauté until translucent.

Add in minced garlic and continue cooking for one minute.

Stir in dijon mustard, honey and apple cider vinegar.

Bring to simmer and continue cooking on low for a 4-5 minutes. Remove from heat.
Salad Assembly
Make a bed of fresh greens.

Top with roasted potatoes and asparagus and greens.

Drizzle warm mustard dressing over salad.

Top with pumpkin seeds and cranberries.