Remember my post on Roasted Chicken? And the following one about making bone broth from that same chicken? Well, here's where it all starts to come together in beautiful ways after the fact.
Let me set the scene. It's a rainy day and it doesn't look like it's going to let up anytime soon. You need some serious comfort food but you don't want the serious bellyache that usually follows. After all, you do have to get some work done. Maybe it's a perfect day for soup but what can you make without getting out in this mess to go to the store? Hmmm…let's see what's in the fridge for veggies. Ah. Looks like you have a couple of parsnips, some carrots, two fresh ears of corn on the cob, even a couple of celery stalks that don't look too bad. That's a great start. Now for the protein. That's right, you have both chicken and chicken bone broth in the freezer from your Roasted Chicken. Let's check for a couple more things. Onion. Check. Bouillon. Check. Sun Dried Tomatoes. Check. Alrighty then. We've got something to work with, but… you did start out craving comfort food. You have a half cup of homemade cashew milk in the fridge to add creaminess. Now, what about some sort of pasta to make it a bit more hearty? Sweet. You have a package of potato gnocchi. The dumpling-like softness of gnocchi is great in soups. Yes! Let's get this soup simmering!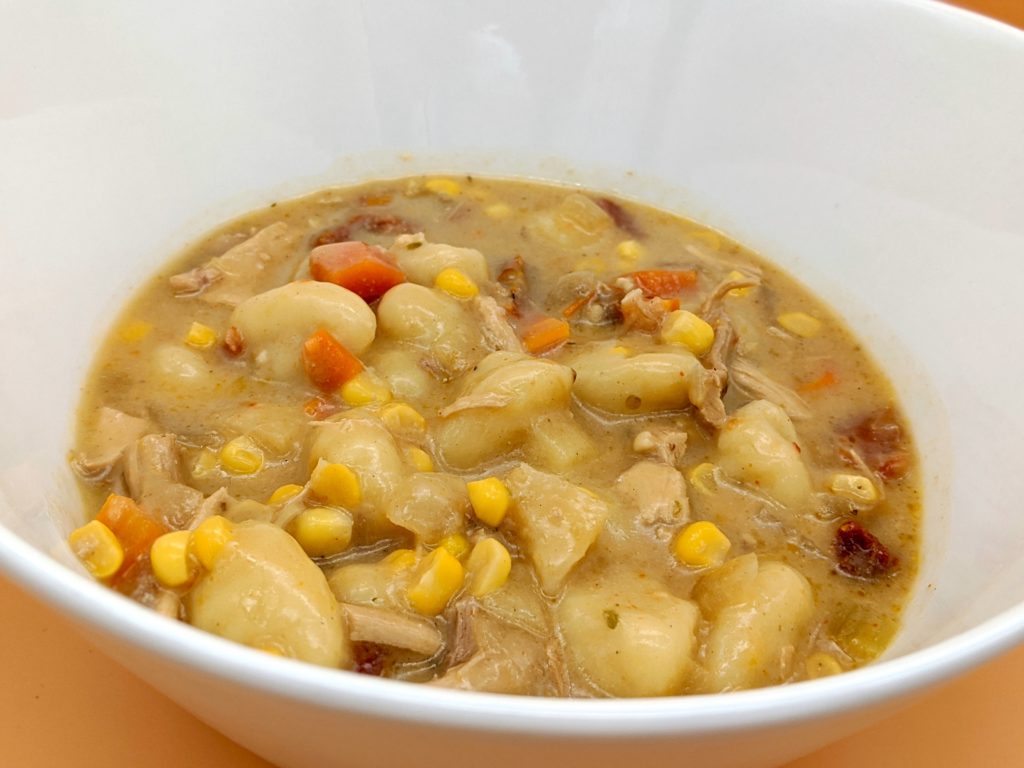 This is a reenactment of actual events the other day and I think I came up with a pretty satisfying soup that I look forward to making again, which is why I am blogging about it. That way, I don't forget! It is full of flavor and rich enough to satisfy your cravings but without leaving you miserable afterwards. Try it yourself and let me know what you think about this Roasted Chicken Gnocchi Soup.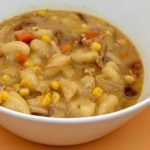 Print Recipe
Roasted Chicken Gnocchi Soup
a comforting blend of veggies, chicken and pillowy soft gnocchi
Ingredients
2

Tbsp

Olive Oil

2

whole carrots, peeled and diced

2

whole parsnips, peeled and diced

2

celery stalks, diced

1

yellow onion, peeled and diced

3-4

cloves garlic, peeled and chopped

8

cups

chicken broth

1

Tbsp

bouillon, veggie or chicken

1

tsp

cajun seasoning

1/2

tsp

red pepper flakes

1

bay leaf

1-2

cups

roasted chicken, diced

2

ears

corn on the cob, husked and kernels cut off the ears

1/4

cup

sun dried tomatoes, chopped

1

pkg

potato gnocchi (14-16 oz)

1/2

cup

whole milk or creamy milk alternative such as cashew, coconut or oat
Instructions
In a large pot, heat olive oil on medium and then add carrots, parsnips, celery and onion and cook until onion is softened but not browned.

Add in garlic and continue to cook for 1-2 minutes.

Pour in chicken broth, bouillon, bay leaf, cajun seasoning and red pepper flakes. Bring to a low boil, put the lid on and let everything cook together for about 15-20 minutes.

Add in roasted chicken, fresh corn kernels and sun dried tomatoes. Cook for 5-10 more minutes.

Add in gnocchi and whole milk or milk alternative. Continue Cooking for another 5-10 minutes until gnocchi is soft and pillowy.

Remove from heat and adjust seasonings to taste.