I know I'm not alone in loving the cooler weather and warmer flavors and colors of fall. Many people don't realize that the Midwest has some of the most extreme weather–ridiculously hot summer days and bitterly cold winter days. Add in the element of incessant wind and our weather can be downright inhospitable. So, when fall rolls around, we absolutely cherish the moderate temperatures, knowing full well a brutal winter could be just around the corner! If it wasn't for my pesky ragweed allergies, fall would be perfect around here.
When my friend Ang brought over a pumpkin a few weeks ago, I was thinking I would make some sort of vegan dessert bar recipe so I baked it, pureed the pumpkin flesh and popped it into the fridge until I had time to actually make something. And then a cold front moved and I started craving something a little more substantial and warming. Enter pumpkin soup recipes. I stumbled upon this recipe for Pumpkin Black Bean Soup from Minimalist Baker and was thrilled to have everything on hand plus it was vegan. Bonus Points! Truth be told, that is often the litmus test for what recipe I make: what kind of yumminess can I come up with that doesn't involve going out of my house? For some reason, I really just want to start cooking when the inspiration hits and stopping to go to the store gets in the way of that creative flow. I know, it's weird.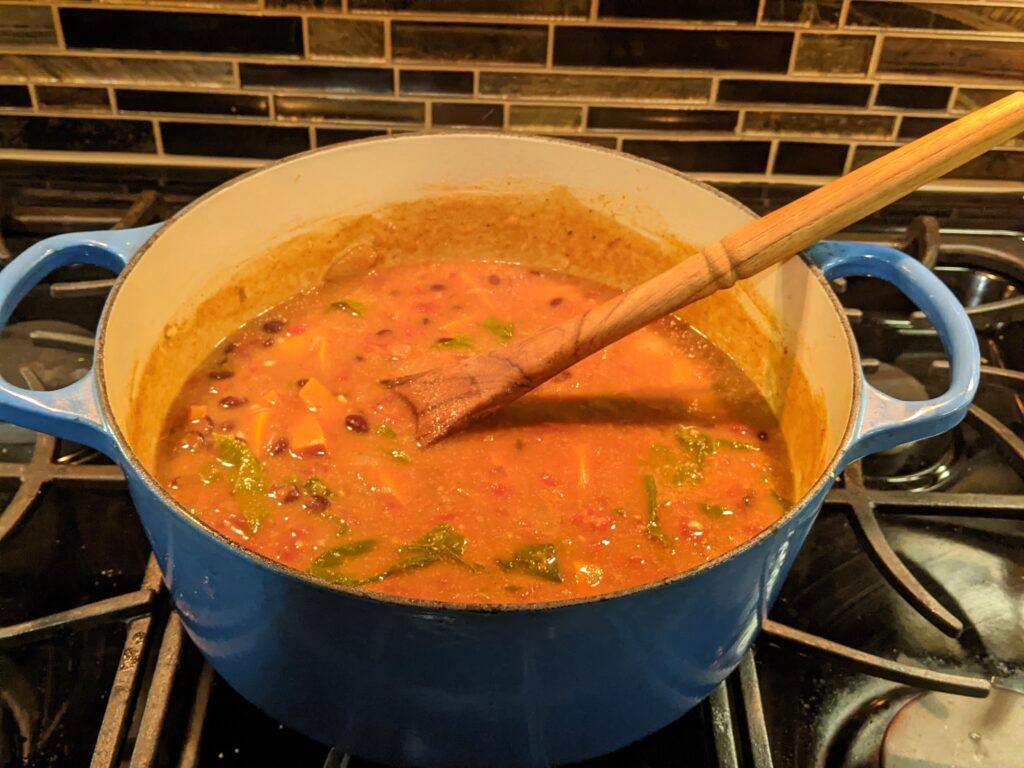 You will notice there are several modifications to the original recipe but that's the joy of cooking! For instance, I squeezed in the juice from an orange and grated some orange peel into the soup. It brightened the pumpkin nicely and gave a hint of sweetness that plays well with the bold spices. I shared this Pumpkin Black Bean Soup with several friends and it was a unanimous success! The textures and flavors play beautifully together, creating a completely satisfying meal in one pot. Try making this soup for yourself and let me know how you like it. I think you will find it making its way into your regular fall rotation.
Pumpkin Black Bean Soup
a satisfyingly warm soup that just happens to be vegan
Ingredients
1

tbsp

olive oil

1

large onion, diced

4

cloves

minced garlic

1

tsp

grated fresh ginger root

1

jalapeño

diced

1

sweet potato, diced

skin on

1

15-oz can

diced tomatoes

2

cups

vegetable broth

2

tsp

ground cumin

1

tsp

chili powder

1/2

tsp

ground coriander

1

15-oz can

coconut milk

1 1/2

cups

pumpkin puree

2

15-oz cans

black beans

2

tbsp

fresh lime juice

1

tsp

freshly grated orange peel

Juice of one orange

salt and pepper to taste

2

cups

chopped greens

chard, spinach, kale, etc.

1/4

cup

roasted pumpkin seeds

1/2

cup

fresh cilantro, snipped
Instructions
Heat up olive oil in large pot or Dutch oven and sauté the diced onions over medium heat for 4-5 minutes.

Add in garlic, ginger and jalapeño and cook for another minute before adding in diced sweet potatoes. Sauté for 4-5 minutes.

Add in tomatoes, vegetable broth, cumin, chili powder and coriander and bring to a low boil. Reduce heat and simmer for 7-10 minutes or until sweet potatoes are nearly tender.

Add coconut milk, pumpkin purée and drained black beans. Bring back to low boil and reduce heat again, simmering for 5-10 minutes

Add in lime juice, orange juice and orange peel.

Add in chopped greens and continue simmering for another 5 minutes, just until greens wilt.

Remove from heat. Season with salt and pepper to taste.

Just before serving, garnish with pumpkin seeds and fresh cilantro. Enjoy!