I was out of town shopping with my girls last week and came across a package of ladyfingers which reminded me that it was my sister-in-law's birthday and so I picked them up and came home and made her one of her all-time favorites–tiramisu. I delivered another plate of tiramisu deliciousness to my friend Carol since her birthday was the following day. She had never tried it before but let me know that she and her husband are now fans and asked me for the recipe. I haven't made tiramisu in a few years but when I started this blog, my friend Lola's first suggestion was this tiramisu recipe. No worries. She got in on the festivities even though it wasn't her birthday. So yeah, tiramisu is kind of a big deal.
For some reason, people always assume that preparing tiramisu requires some sort of expert-level skill but, in reality, it is a fairly simple no-bake dessert that presents beautifully for any occasion. Deceptively light, it consists of three basic parts: a homemade custard, whipped cream and ladyfingers, which are laced with espresso and rum. Simply tiramisu!
The original recipe calls for mascarpone cheese but that's a little pricey around these parts so I usually just substitute cream cheese which works out really well. Since I don't have an espresso machine in my home, I brew up a really strong coffee. There have been times when I couldn't get my hands on ladyfingers at my local grocery store and I just baked up a classic sponge cake instead, sliced it in half horizontally and went on from there.
So, you see, there is no need to be intimidated. Simply tiramisu is simply good and simply easy to put together. No oven required. What are you waiting for? Pick up a package of ladyfingers and create a pan of this deliciousness! Your friends and family will thank you.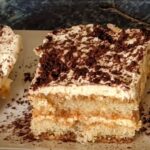 Print Recipe
Simply Tiramisu
Ingredients
6

large egg yolks

3/4

cup

sugar

16

oz

cream cheese or mascarpone cheese, softened

1 1/2

cups

whipping cream, heavy

1/2

tsp

vanilla

12

oz

package ladyfingers

1/2

cup

cold prepared espresso or strong coffee, cooled

3

Tbsp

rum

1

Tbsp

baking cocoa
Instructions
For Custard
Using a wire whisk, beat egg yolks and sugar in small saucepan until smooth. Beat in milk. Heat on medium heat until boiling, stirring constantly, then reduce heat to low, boiling for 1 minute. Remove from heat.

Place plastic wrap directly on top of custard inside of pan and refrigerate for approximately one hour.

Remove from refrigerator and mix in cheese until smooth, using wire whisk.
For Whipped Cream
With electric mixer, beat whipping cream and vanilla together until stiff.
For Espresso and Rum Mix
Brew a strong coffee or espresso. Mix 1/2 cup with 3 Tsp of rum.
Final Assembly
Arrange a single layer of ladyfingers on bottom of an ungreased 11 x 7 cake pan, one with deep sides.

Drizzle half of the espresso/rum mix across the ladyfingers.

Using spatula, spread half of the custard evenly.

Now spread half of the whipped cream on top of the custard.

Repeat this layering process, starting again with the ladyfingers and finish with a generous dusting with cocoa powder. Refrigerate overnight.