There are a lot of theories swirling around out there about why we are so food-sensitive these days but one thing I do know first-hand: food sensitivities are real. And they are abundant. It's a rare dinner I host that I don't have to consider the menu in light of at least one dietary restriction. But here's the thing, instead of seeing it as an frustrating creative limitation, change the narrative and see it as a creative challenge and labor of love for your friends and family with special food needs. I have discovered many amazing new foods by thinking outside my normal recipe box. My vegan friend Ang has taught me much about letting veggies, beans and grains take center stage. In fact, she was my inspiration to find this delicious curry recipe. When I served this vegan curry side-by-side my chicken curry, it was the undeniable favorite. Now, it's pretty much the only curry I serve, even to carnivores. And I don't get any complaints! Check out the recipe link at the end of the blog.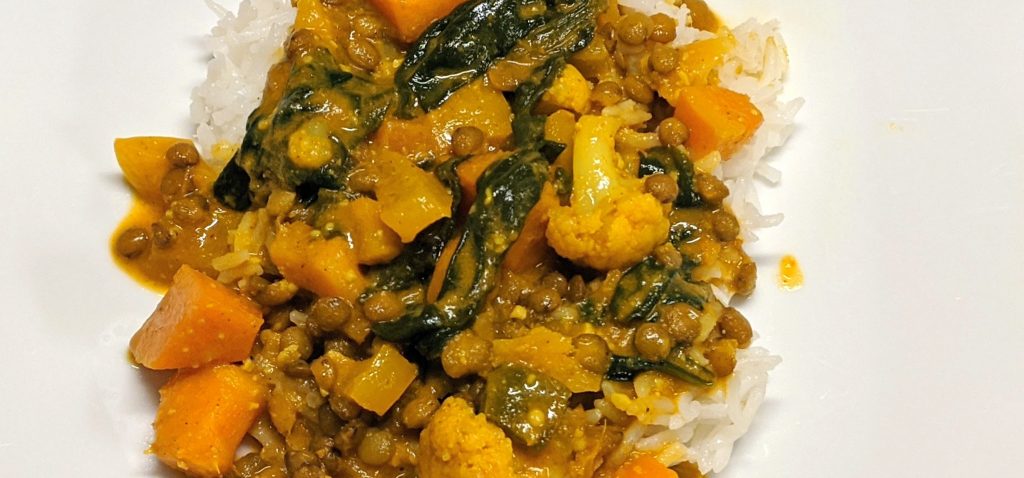 I have a couple of friends with serious reactions to gluten. It isn't hard to come up with menus that revolve around starches other than wheat: like rice or polenta or potatoes. None of my friends minded a recent comfort-food meal of tossed salad, Shepherd's Pie and these amazing Brownie's Edge Cookies w/ Sea Salt. They didn't even miss the gluten, I assure you, and my gluten-free friend could enjoy a worry-free meal.
Speaking of those cookies, there are literally six ingredients. You can use a mixer but you don't have to and they truly taste just like the crunchy edges of a delicious pan of brownies. So good!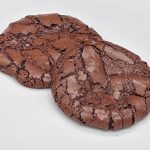 Print Recipe
Brownie's Edge Cookie w/ Sea Salt
Decadent and gluten-free. What's not to love?
Ingredients
1/2

cup

unsweetened good-quality dark chocolate cocoa powder

3

cups

powdered sugar

1/2

tsp

fine sea salt

4

large egg whites

(at room temperature)

2

tsp

vanilla

1/2

tsp

salt flakes

(for sprinkling)
Instructions
Preheat oven to 350° F and line two cookie sheets with parchment paper.

In a large mixing bowl, mix cocoa powder, powdered sugar and fine sea salt.

Add in egg whites and vanilla and whisk until mostly smooth but don't over-whisk.

Using a small cookie scoop, fill just over half full and drop onto cookie sheets, at least two inches apart as these will spread.

Sprinkle a few sea salt flakes on each cookie before placing in oven.

Bake cookies for 11-13 minutes. They are done when the sides are firm to the touch and the tops are glossy and cracked.

Slide the parchment paper off of the cookie sheet and then gently loosen and slide the cookies from parchment paper. Let cool.
Print Recipe
Here's what I have discovered, for what it's worth. When feeding people with food sensitivities, explore recipes that naturally avoid those restricted foods. That way your recipe isn't in competition with the original taste or texture and found lacking, plus you can focus on making one stunning menu instead of trying to come up with alternate versions of everything to accommodate the allergy or sensitivity.
For dairy restrictions, try a rich balsamic or lemon poppyseed dressing instead of a fake ranch dressing. Instead of meat substitutes, how about a veggie curry like the one pictured above or a minestrone? Let the veggies shine! If gluten is the problem, why not serve potato latkes or polenta cakes instead of gluten-free bread? And you can't go wrong with those Brownie's Edge Cookies for dessert. When you are dealing with several food restrictions, you might consider hosting a Salad Supper or Grain Bowl Supper: Potluck Edition. That way, everyone walks away happy and you get to play the hero. And that, my friends, is the perfect ending to a fun night surrounded by good food and good friends!
Note that I used lentils in place of the tofu in the recipe pictured above.